Australian hardwood

Our timber sourced from sustainably managed forests under the direction of the Victorian Government's forest manager, VicForests. VicForests is the State government's agency responsible for the sustainable harvesting and regeneration of public forests.
---
Beautiful Tasmanian Oak
Sustainably harvested from Australia's southern-most forests for over two centuries, Tasmanian Oak has become a highly prized Australian resource by world standards.
It's a warm, dense and resilient timber which is hard-waring and very stable. It's lightly coloured, with variations from straw to reddish brown with intermediate shades of cream to pink injecting a modern, crisp feel. Renowned as a hard-wearing hardwood with high impact resistance makes it particularly suitable where durability and strength are paramount.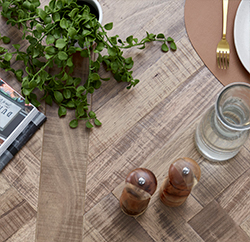 Australian Messmate
Australian Messmate is a distinctive hardwood grown naturally in the vibrant forests of Victoria and Tasmania.
Messmate timber varies in colour from pale browns through to light yellows with subtle hints of peach. It is rich and warm in detail with distinctive gum veins being a prominent feature, adding character to any finely crafted furniture piece. It's strength and beauty have ensured it is widely recognised as a top quality timber for furniture in Australia.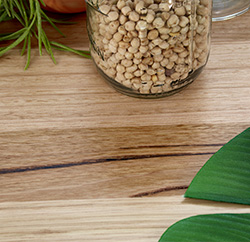 Australian Wormy Chestnut
Deep in the forests of south east Australia the trees are affected by wildfires, years of drought, attack by insects, the occasional flood and winds. It is from these trees that the distinctive characteristics of Australian Wormy Chestnut are born and showcase nature's signature. Features such as deep red gum veins formed by fire, ambrosia beetle marks, pin holes and squiggly worm marks to reflect and retell the story of the Australian bush.
It is these distinct one-off features that make Australian Wormy Chestnut so enticing and help to give your home a unique appearance.